Galeri Khazanah's online exhibition Time Together: Exploring Art Through Khazanah Nasional Berhad's Collection gets a physical showcase, just in time for this year's Merdeka celebrations.
The mini art exhibition, featuring 28 selected artworks, is showing now at Slate at The Row in Kuala Lumpur until Sept 4.
The event was officially launched by Sultan of Perak Sultan Nazrin Muizzuddin Shah on Aug 24. Also present was Datuk Amirul Feisal Wan Zahir, Khazanah Nasional Bhd's managing director.
"The works of art we see around us here, gathered from all around Malaysia, can serve as a window into the soul of our nation. They tell a story about how we have evolved and changed over time," said Sultan Nazrin.
Galeri Khazanah is an initiative by Khazanah Nasional Bhd to showcase its private art collection, which consists of drawings, paintings, photographs, sculptures, crafts, historical objects, and cultural artefacts to a global audience.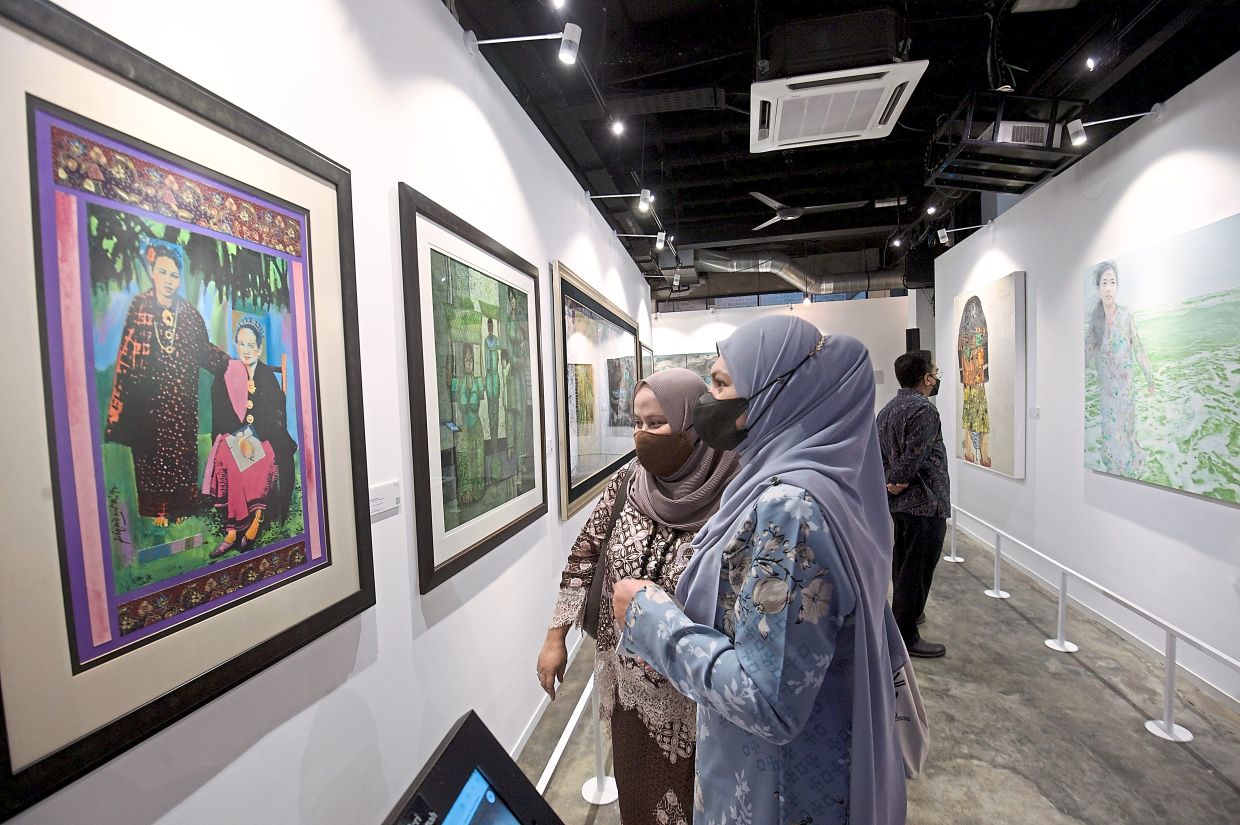 A view of the 'Time Together' exhibition space at the Slate at The Row in KL. Photo: The Star/Raja Faisal Hishan
The virtual gallery went live on July 28.
"Traditionally, art is viewed physically. It is kept in museums, galleries, corporate offices, and in private homes or art collectors.
"Initiatives like the virtual exhibition of these works that Khazanah has set up allow art to be accessed in a far more effective way than was previously possible," added Sultan Nazrin.
The exhibition space also features interactive screens that allow visitors to navigate the virtual gallery.
Best of both worlds
While the physical exhibition in KL is only for a limited time, Galeri Khazanah will continue to curate virtual art exhibitions in the coming months.
The on-site Time Together exhibition features works by a multi-generational selection of Malaysian artists.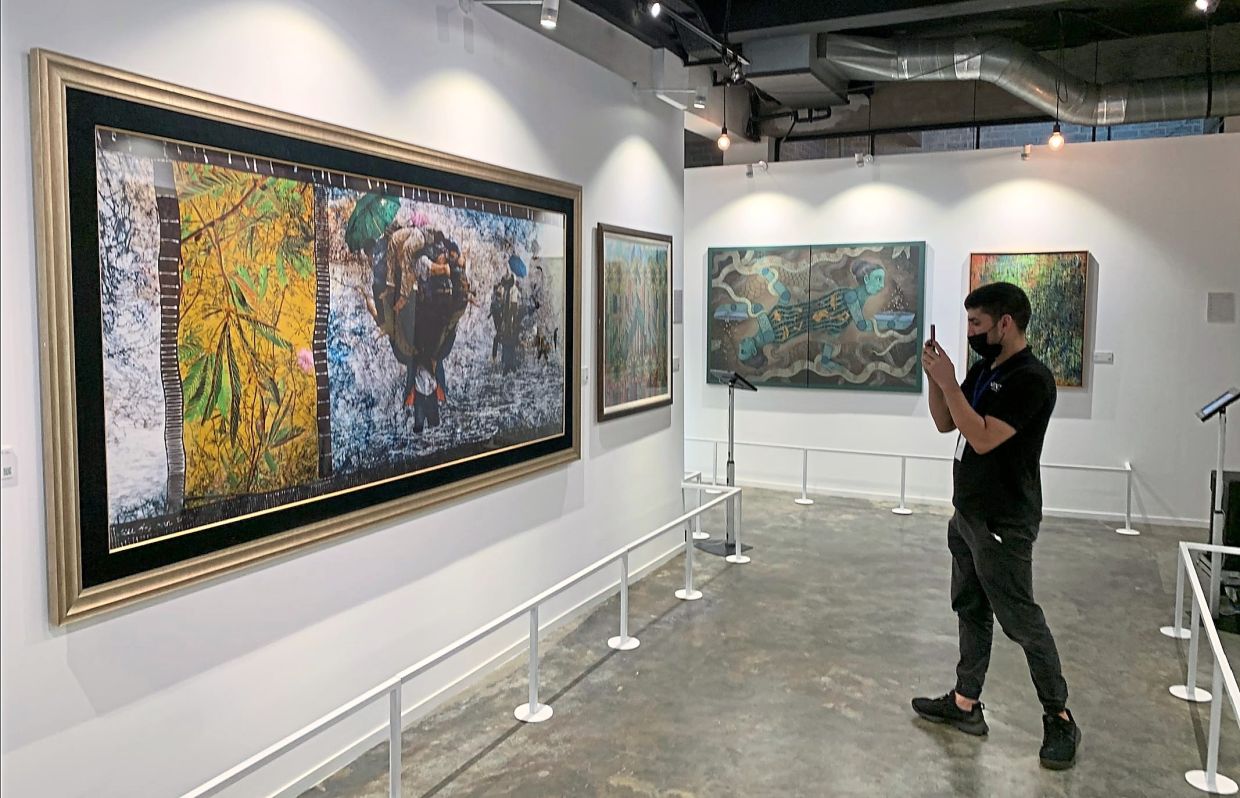 Visitors can view 28 selected artworks from Khazanah's collection at Slate at The Row in Kuala Lumpur until Sept 4. Photo: Handout
The line-up includes Ahmad Khalid Yusof, Ahmad Zakii Anwar, Chang Yoong Chia, Datuk Chuah Thean Teng, Datuk Ibrahim Hussein, Datuk Sharifah Fatimah Syed Zubir, Fatimah Chik, Fauzul Yusri, Datuk Haron Mokhtar, Jalaini Abu Hassan, Khalil Ibrahim, Kow Leong Kiang, Latiff Mohidin, M.Zain, Redza Piyadasa, Sabri Idrus, Datuk Syed Ahmad Jamal, Yee I-Lann and Yusof Ghani.
Also featured are artists under the Khazanah Residency Programme, namely Ajim Juxta, Azam Aris, Haffendi Anuar, Izat Arif, Tomi Heri, Winnie Cheng, Yeoh Choo Kuan and Zulkifli Lee.
"Most of these artworks that are on display have never left the Khazanah office, so to have them in a public setting such as this makes us proud to show our collection which has been produced by talented Malaysian artists. Beyond its purely financial responsibilities, Khazanah has a duty to protect, preserve and develop such national assets," says Amirul.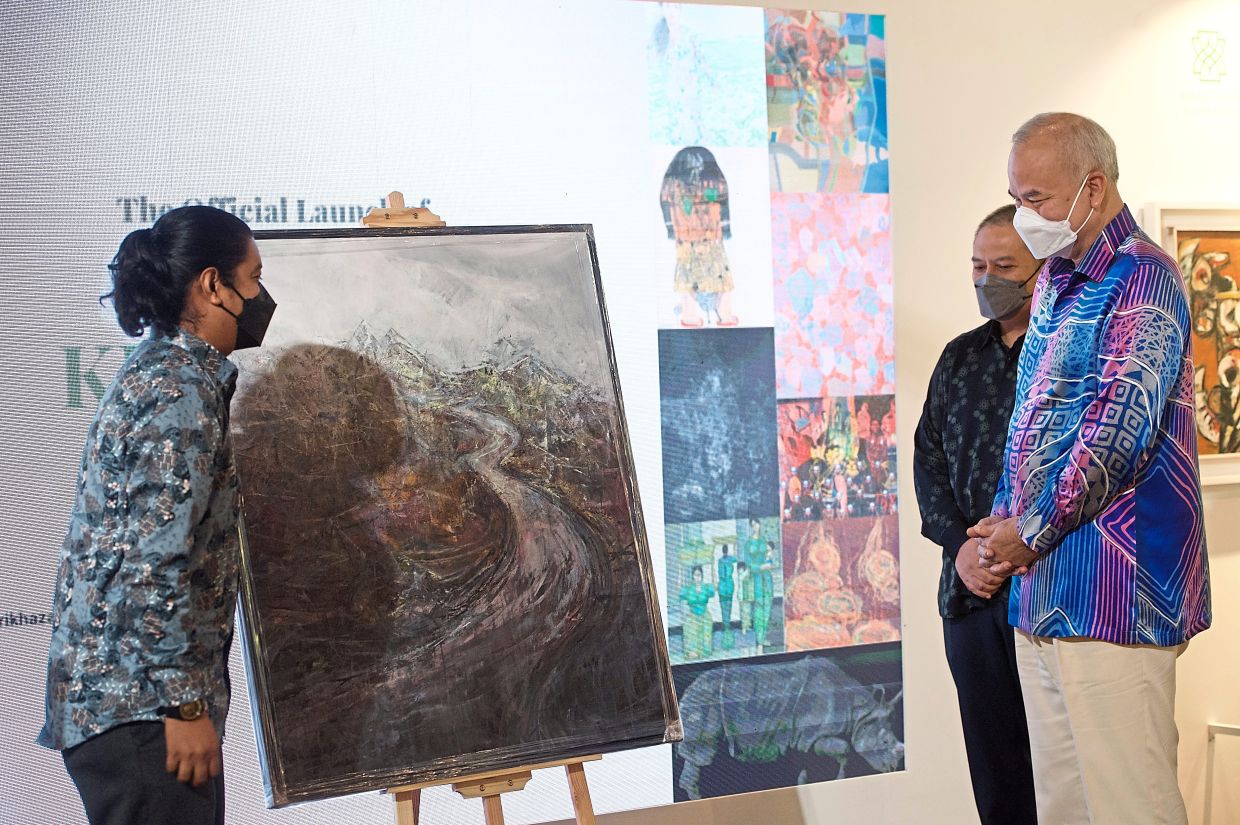 Contemporary artist Ajim Juxta presenting his commissioned artwork titled 'Mudik Ke Hulu, Ziarah Pusara' (2022) to the Sultan of Perak. Photo: The Star/Raja Faisal Hishan
Various art-based activities have also been lined up at the exhibition space to give the public a better understanding of this national art collection. Guided curatorial tours and art workshops are in the programme.
Meanwhile, if you cannot make the KL exhibition, don't miss the virtual Time Together exhibition.
Art lovers can wander and discover 57 modern and contemporary works produced by 29 Malaysian artists in five thematic virtual reality spaces – the Lobby, Traditional House, Peranakan, Pavilion and Glass Room.
Curated by Malaysian art consultant Sarah Abu Bakar, it will run until December this year.