Last Saturday morning a bunch of children between the ages of five and 15 had a delightful time sketching, doodling, letting their imaginations soar and creating their own comic strips, at Galeri Khazanah's temporary space at Slate@The Row, Jalan Doraisamy in Kuala Lumpur.
Galeri Khazanah, the virtual gallery, was launched on Aug 24, and its current exhibition Time Together: Exploring Art Through Khazanah's Collection, showcases 57 artworks by 29 artists. To create awareness and make Galeri Khazanah more accessible to Malaysians, the temporary physical exhibition is open to the public until Sept 4 and features a mini selection of the artworks.
Nestled in between these amazing works by some of the most influential Malaysian artists, including Datuk Ibrahim Hussein, Yusof Ghani and Latiff Mohidin, the children who were busy with their pencils and crayons were led by doodle artist Sofia Munira Shamsunahar in Comic Strips With Sofia Munira Of SofsDoodles, one the many Young Discovery and Art Series "activations" surrounding the launch of the gallery. Other workshops included Mandala Paper Quilling and Origami.
Initially shy and quiet, the children had a ball of a time and were running on stage to share their "masterpieces" by the end of the two-hour session.
Sofia, 25, says that activities like these are not just fun but important for children because they have a chance to play, be creative and express themselves through art.
"Art sessions like this help bring kids out of their shell and encourages them chat to each other whilst they are making art, which creates a sense of community in the workshop. I feel making friends and feeling part of a group is so important when growing up, as it teaches us communication and teamwork skills, and helps with self-confidence," shares Sofia.
While growing up, Sofia would always doodle on the margins of her notebooks and papers in class, as it was hard for her to concentrate for long periods of time.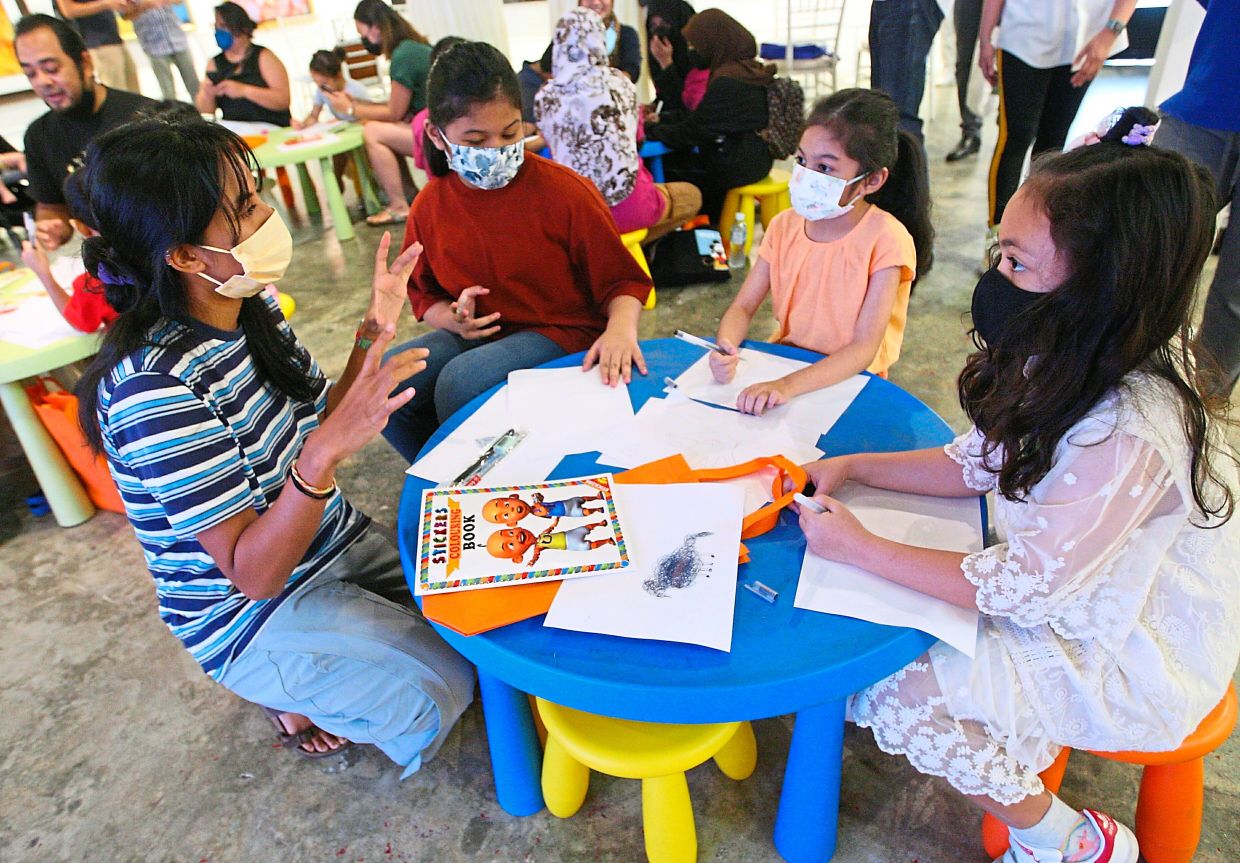 Sofia engaging with the young participants at the comic-making workshop at the Slate@The Row in Kuala Lumpur. Photo: The Star/Azman Ghani
"I think years of doing this built up my skills in drawing!" she says.
Earlier this year, Sofia published a book, Sof's Doodles: Returning To My Roots, which she says came kind of organically.
"I had been travelling and doodling comics, but not with any goal to create a book. Once I realised I had a compilation of comics, I pitched it to MPH as a book, and they were keen!"
Born in Sarawak, Sofia left Malaysia at the age of four and grew up mostly overseas, accompanying her engineer father and geophysicist mother to countries such as Canada, the Netherlands, Norway and Oman.
Simple joys of life
Nonetheless she has always held strongly to her Malaysian roots, and even grew up reading Lat comic books.
"I admire how he captures humour in his pieces, showcases Malaysian culture and can tell heartfelt stories. Noticing the simple joys of life is a source of inspiration for me, and I try to capture that in my doodles," she says.
Sofia straddles working as an outdoor instructor with art. Last year, she completed two virtual artist residencies with KCH Haus and Lights On: George Town Festival, exhibiting her work virtually.
Her animation shorts, I Got Covid and When Two Worlds Collide – a collaboration with Chadel Soon, were a part of last year's G-Short Short Film Festival and Isle of Design: Projection Mapping Competition.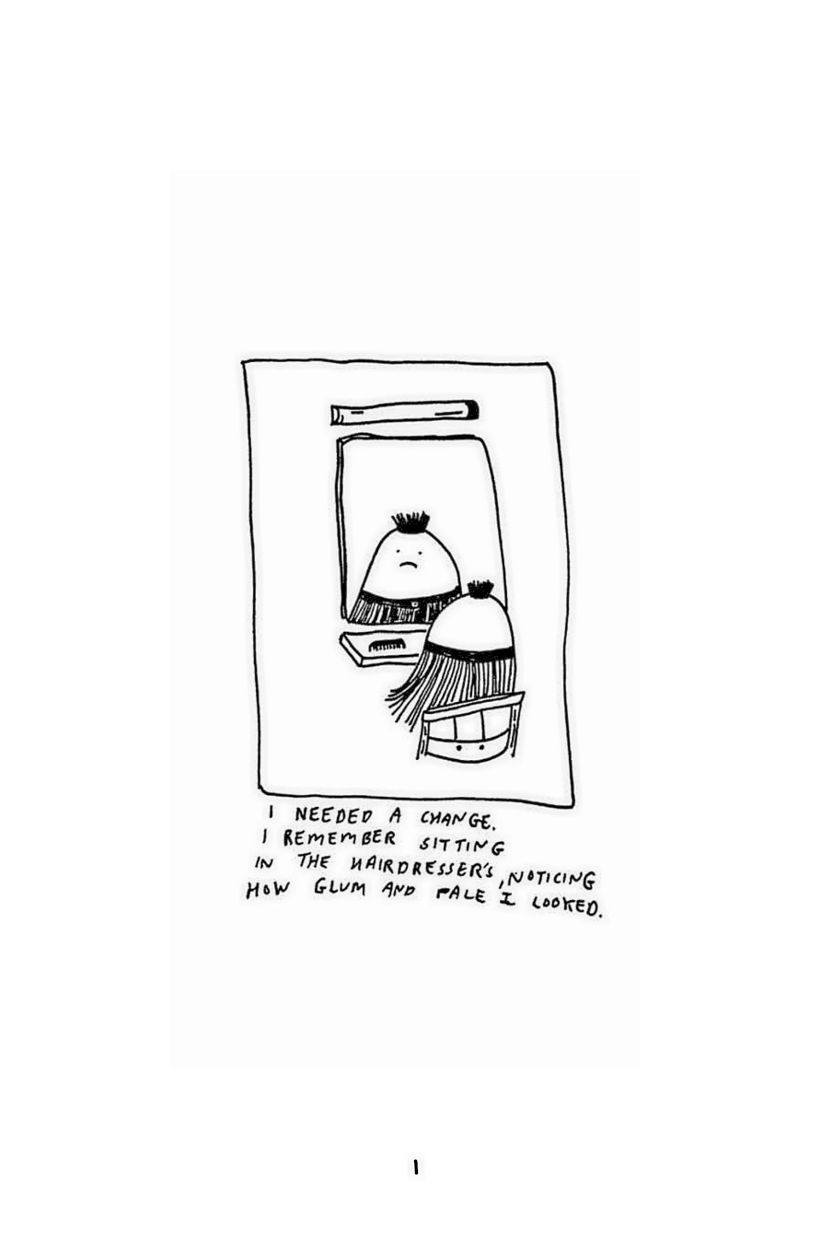 Earlier this year, Sofia published a book, 'Sof's Doodles: Returning To My Roots', which showcased her minimalist style. Photo: SofsDoodles
During the Khazanah workshop, Sofia took the kids through a series of "missions" from drawing their favourite food and animal to expressing emotions like what makes you feel happy and what makes you scared in their doodles.
Their final mission was to create a four-panel comic strip and the end results were fabulously imaginative, from meeting Ariana Grande to space capers, a world made out of marshmallows, haunted house and even a kidnapping story.
"It was cool seeing how shy kids were at the start of the session to share their pieces and talk to each other, but then they started to befriend each other at their little tables and were racing to the stage to present their drawings by the end of the workshop!
"It was great seeing how engaged they were throughout the whole class, and it was exciting to hear how some of them want to become artist themselves one day," she says.
Exposure to the arts
According to curator and art consultant Sarah Abu Bakar, one of Khazanah's initiatives is to provide greater knowledge accessibility.
"Through Khazanah's effort in making art accessible for the public during the temporary exhibition at Slate at The Row, several activities such as artists' talks and children's workshops have been carefully curated to encourage visitors of
all ages to be inspired by Malaysian artworks. As part of Khazanah's 'Do Good Together' (Berbudi Bersama) initiative, the children's workshop is one of the programmes that brings impact for the community."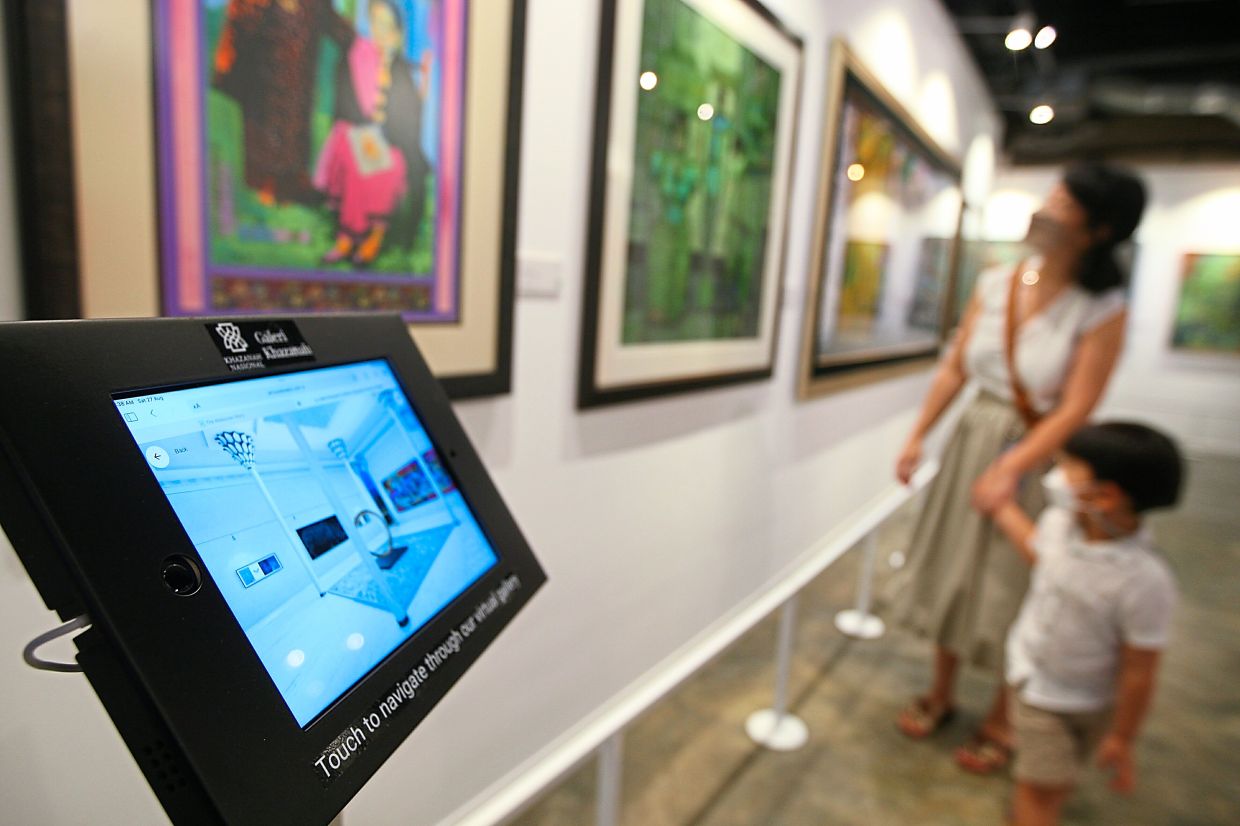 Galeri Khazanah's on-site exhibition 'Time Together: Exploring Art Through Khazanah's Collection' at Slate@The Row, which is open until this Sunday. Photo: The Star/Azman Ghani
Sarah says that a number of school children from B40 communities participated in the children's workshops.
"These art-based activities are not just fun but also exposes young children to the process of art-making, which is an important aspect for the appreciation of the arts."
Sarah says her five-year-old daughter Amal who was at the doodle workshop enjoyed herself very much.
"She enjoyed doodling her favourite food (rice); she was able to depict her nightmare (ghost); and draw her favourite person (mommy). Besides that, she also made new friends!"
Twelve-year-old Nur Azura Kamal from Yayasan Chow Kit was also present with a bunch of friends and her teacher.
The Myanmar refugee says that she is ever grateful for these sort of opportunities that come her way.
"It is a way for me to grow my knowledge. It's the first time for me, coming to a workshop like this and I really enjoyed it," she says.
"My dream is to someday own my own gallery and showcase my own art. It will be unique and exciting!"
This weekend you can take your children for the Young Art Series workshop "Contemporary collage / image-making with Cikgu Huda" at 10am on both Saturday and Sunday. Curatorial tours with Sarah Abu Bakar and Mudzafar Sanusi are also available at 3pm. All sessions are on a first come first served basis. More info here.