Over the course of history, a lot has been said about what art means, and even more about what art is — from the ancient belief that art merely imitates life's ideals or forms, to that of religious expression, emotional artistic expression, and so on and so forth.
If there is one consistent thread, perhaps the great philosopher Aristotle summed it up when he said, "The aim of art is to represent not the outward appearance of things, but their inward significance."
In whatever form, style or medium, it can be said that art expresses what is beyond our reality — a window into the realm of imagination, interpretation, possibilities, or the soul.
This reflects the purpose of Galeri Khazanah, an aperture that offers a glimpse into the soul of the nation, through a curated collection of Malaysian art across decades and generations of artists.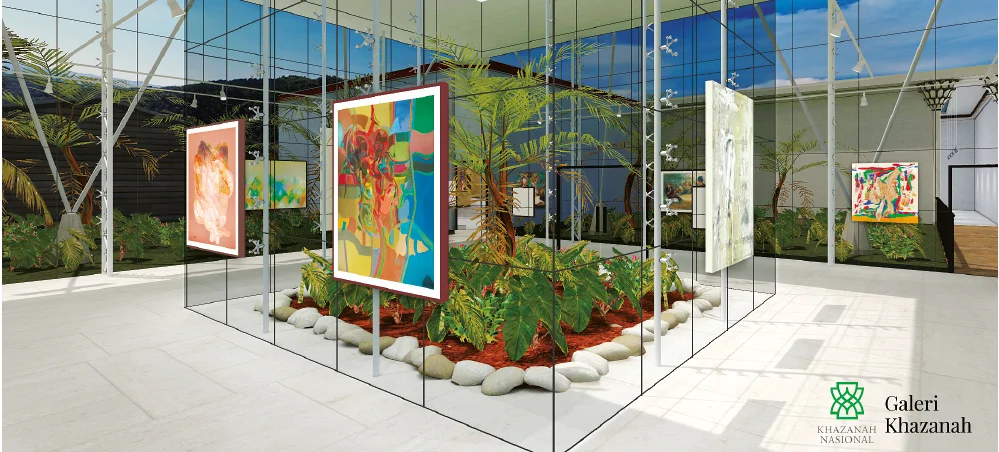 Time Together: Exploring Art Through Khazanah's Collection is the first virtual art exhibition by the gallery, featuring 57 artworks by 29 Malaysian artists selected from a carefully acquired collection built since 1994 with the aim of preserving artistic gems that each carry a narrative of their own — pieces that form a tapestry of Malaysia's rich culture and heritage.
Having gone live on July 28, the gallery celebrated the virtual exhibition's official launch with a ceremony and physical showcase at Slate at The Row on Aug 24, which was attended by the local arts fraternity and distinguished corporate friends.
Officiating the ceremony, the Sultan of Perak, Sultan Nazrin Muizzuddin Shah, emphasised in his speech the importance of art in our society.
The physical exhibition was accessible to the public until Sept 4, displaying some key works from the virtual art gallery, along with art activities and talks, including conversations with the masters and emerging artists themselves.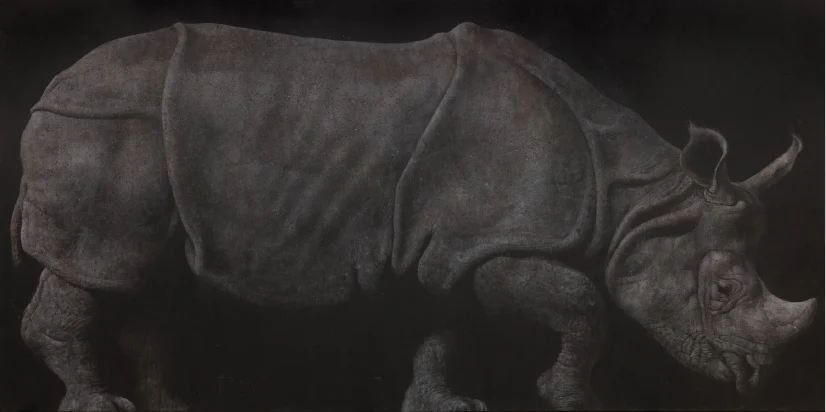 Ahmad Zakii Anwar | Badak | 2013 | Acrylic on Canvas
At the forefront, Time Together captures stories of Malaysia through time, from the meaningful representations of the works to the underlying journey of each artist. This is especially exemplified in the evolution of artists such as Latiff Mohidin, M Zain Idris, Ahmad Khalid Yusof, Dato' Chuah Thean Teng and Kok Yew Puah, to name a few.
Curated by Malaysian art specialist Sarah Abu Bakar, the ambitious virtual exhibition consists of five thematic rooms, each with a space uniquely designed by architecture firm Fei Architect that complements their respective themes.
While you can wander around the virtual site as you like, going in the recommended order offers a more holistic reflection of Malaysian art at a broad stroke. That said, the artworks themselves are not displayed chronologically.
We start in the Lobby, where six abstract paintings evocatively beckon the viewer to tune in beyond our current reality. Aptly named Poetic Gestures, there are four works by Latiff Mohidin, the maestro of abstraction himself. Arguably most famous is Pago Pago (1968), part of a series of works that earned him the honour of being the first Southeast Asian artist to showcase at the Centre Pompidou in Paris in 2018.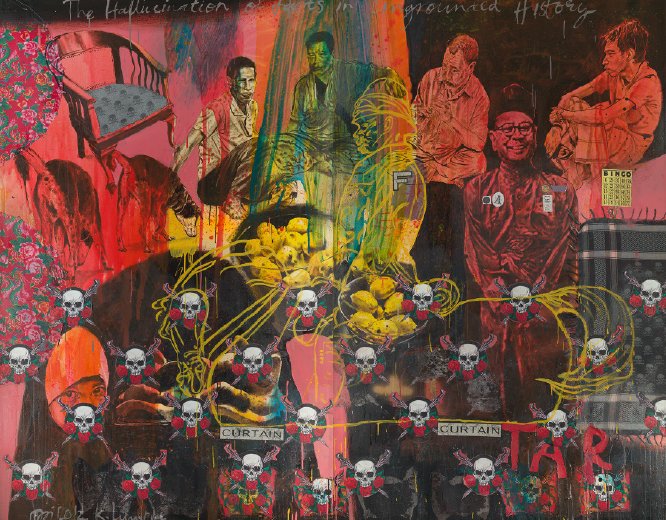 Jalaini Abu Hassan | The Hallucination of Facts in Ungrounded History | 2012 | Mixed Media on Canvas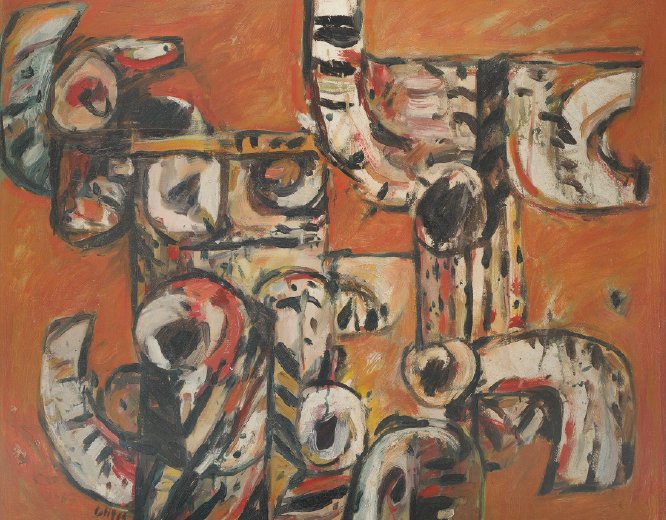 Latiff Mohidin | Pago Pago | 1968 | Oil on Canvas
The totemic works inspired by his Minangkabau roots and their distinctive perspective on structure and architecture were hung next to more vibrant and colourful works — Datuk Syed Ahmad Jamal's 80 (2008), and Dato' Sharifah Fatimah Syed Zubir's The Link Series (1994).
To help one take in these famed artworks and their incredible detail, an orchestral composition, Lenggang Mak Limah, performed by the Malaysian Philharmonic Orchestra, plays in the background. With different refrains of the piece providing a soundtrack in each room, they carry the viewer on a separate yet conjoined experience.
Once the viewer gets drawn in, Time Together calls attention to Malaysia's cultural roots as interpreted across various decades. Ismail Mat Hussin's beautifully detailed batik depiction in Penjual Nasi Dagang (2006) refreshingly contrasts with M Zain Idris' dreamy oil painting, Musim Menuai (1970), though both depict rural Malay village life. In a class of her own is Yee I-Lann, whose arresting digital photo and batik on Chinese silk print, Orang Besar Series: Kain Panjang with Petulant Kepala (2010), catches the eye.
In the Peranakan courtyard room, we see figurative and abstract paintings alongside modern sculptures. Redza Piyadasa's striking Two Malay Women (1992) speaks symbolically of a bright and vibrant sense of national identity. Indeed, from Kow Leong Kiang's youthful girl in To The Sea 4 (2012) to Datuk Chua Thean Teng's maternal women in Carrying Durians (1991), we see the Malaysian woman in all her diversity.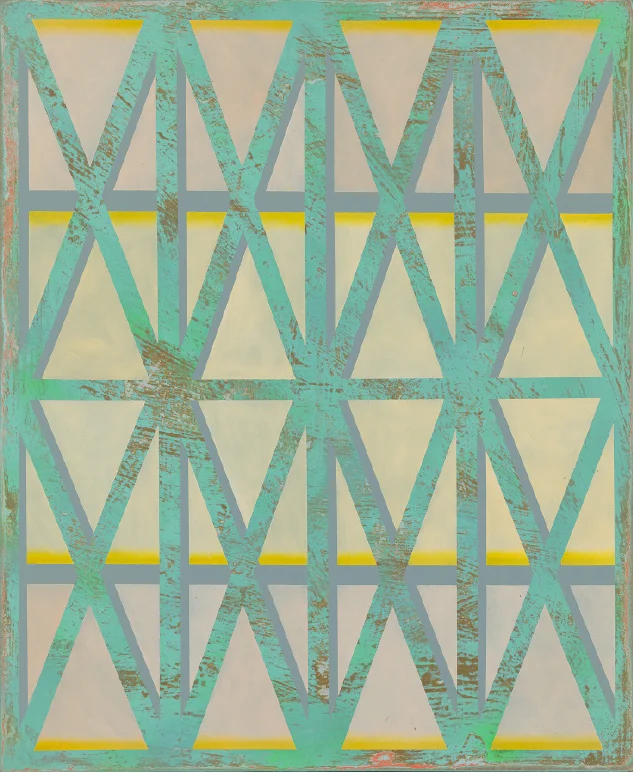 Haffendi Anuar | Windows 1 | 2015 | Oil, Acrylic and Enamel Paint on MDF Board
Identity is further synthesised in Segerak Series No 2 (2014) by Yusof Ghani, where the essence of human struggle, along with life's victories and its "aggression and celebration, realism and fantasy", is captured in an ever-shifting imagery. The flux of personal, racial and even religious identity is further reflected upon in Anurendra Jegadeva's Late Night Snack (2017), depicting two Muslim men in Australia.
After the personal comes broader topics of socio- political commentary, revealing the complex realities of contemporary Malaysia. These and more are explored in the Pavilion space, which offers a rather stately ambience. The eight works featured are also larger works, among them the intricate Badak (2013), part of Ahmad Zakii Anwar's famed series on beastly mammals. Using animals in a different way is Liew Kung Yu, whose epic digital print Konkrit Jungle (2009) offers a somewhat dystopian commentary on progress versus nature.
Lastly, in the Glass Room, the past meets the present as Zakii and Jalaini Abu Hassan (better known as Jai) present works about lineage. Other paintings include a series of abstract works by Syed Ahmad Jamal, Datuk Ibrahim Hussein's Untitled (2001) and even an unexpected selection of Dato' Mohd Hoessein Enas' Silat (1991).
The works of past and present bring to mind veteran artist Jalaini's answer when asked about the notion of art being a window into the soul of the nation. "The notion of the window is that it extends to the bigger picture. It was Renaissance artist Leon Battista Alberti who presented the Alberti's Window theory, that art should be re-looked at as a portal to a unique dimension.
"A portal that can connect us to the past (history) from the present (life) and transports us into the future. This trans-dimensional device is what art is to me today. It is not just a window, but a kind of gateway to the nation or civilisation," says Jai.
For multidisciplinary artist Haffendi Anuar, who is based in the UK, there is no singular "soul" of a country, but "the beauty of art is that artworks made by varying artists exhibit a plethora of perspectives on this notion of a national 'spirit' in its many forms".
"Good art should document the life of a people in a place without being illustrative or didactic," he adds, noting that the abstract imagery of his works draws its visual and material sources from Malaysia — its history, culture and way of life.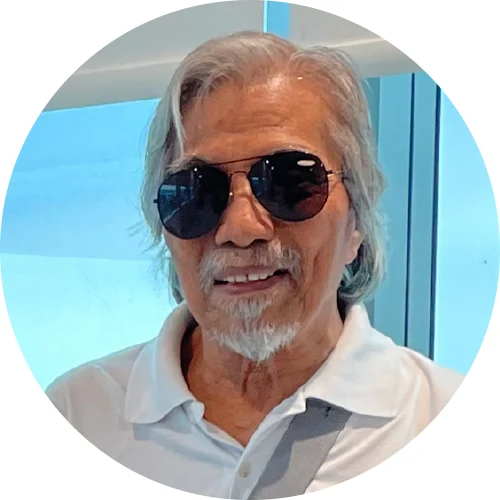 Latiff Mohidin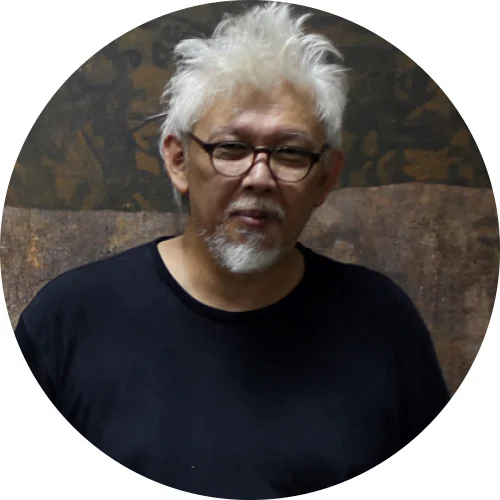 Ahmad Zakii Anwar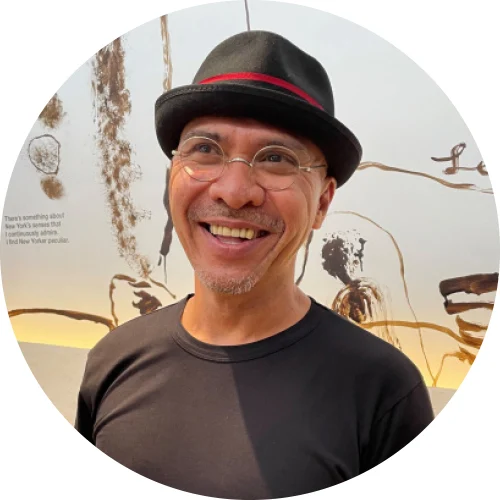 Jalaini Abu Hassan
Haffendi Anuar
Zakii echoes a similar sentiment. "In contemporary art, where it is all about how the artist thinks, or his feelings, there are very different viewpoints. Some, like me, are more personal in our art, some are activists, and others more political. Taken collectively, it must mean that the soul of the nation has to be diverse, doesn't it?"
He adds, "That's the way it should be. You need to open yourself to different viewpoints, to accept everyone as an individual. If we impose a structure where everyone has to follow, that is not a democracy. It also means art can lead the way in how a society could and should be. If only more people could see or understand the value of art."
In fact, that is the main reason that Khazanah Nasional has presented Galeri Khazanah as a virtual exhibition, as an initial effort to democratise art for the masses and not only a select group. The gallery aims to continue to showcase new virtual art pieces as part of Khazanah's initiative in supporting, conserving and preserving these historical gems — which are the nation's cultural assets — and to offer the global audience a glimpse of Malaysia's cultural heritage through the perspective of Malaysian artists.
The launch of Galeri Khazanah to Malaysians and the world is aligned with Khazanah's strategy in Advancing Malaysia as part of its pillar in building capacity and spurring vibrant communities, in delivering societal value and impact.