The collection of paintings on display features the country's finest artists
KUALA LUMPUR – Khazanah Nasional Berhad launched its virtual art gallery, Galeri Khazanah, today to highlight Malaysian art to local and international audiences.
The theme for the virtual gallery is Time Together: Exploring Art Through Khazanah's Collection and will feature 57 artworks by 29 artists from its internal vault.
Since its inception in 1994, Khazanah has been gradually collecting artworks, in various media and styles, produced by local artists in a bid to preserve and promote Malaysian art and talents.
To date, Khazanah has over 600 artworks in its collection, including oil, acrylic and batik paintings, artifacts, sculptures, drawings, and photographs. The physical launch event was officiated by the Sultan of Perak, Sultan Nazrin Muizzuddin Shah alongside Khazanah managing director Datuk Amirul Feisal Wan Zahir.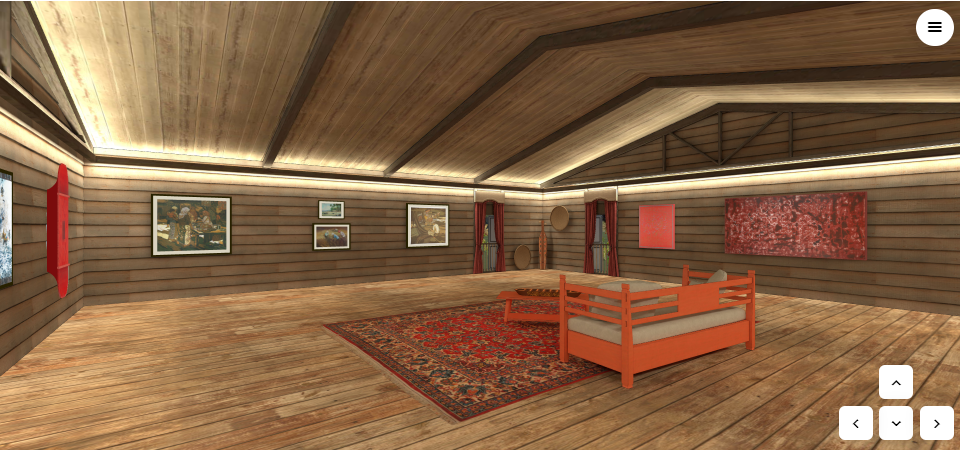 Still of the virtual gallery. – Pic courtesy of Galeri Khazanah
Amirul said, "For the very first time, we are happy to share with all Malaysians, and art enthusiasts from around the world, these artworks produced by Malaysian artists that were acquired gradually since Khazanah's inception in 1994.
"The collection serves as a fragment of the nation's institutional memory which is bound together through the artworks' beautiful stories and narratives. It is true to say that we are capturing history, emotions, and experiences through this art collection.
"Each piece tells a story, and every corporation or collector should be proud to support this ecosystem in ensuring generations to come are able to appreciate and love art while supporting the growth of Malaysian talents."
In his opening address, Sultan Nazrin emphasises the value and importance of our artistic heritage. "When we appreciate the full spectrum of our artists from old and established, to young and emerging, we see how art is not only a window into the soul of Malaysia, but also a form of history.
"Art serves to connect our past, present, and future through historical context. Learning from art history helps to teach us who we are and where we come from," he said.
Sultan Nazrin officiating Galeri Khazanah. – KALASH NANDA KUMAR/The Vibes pic
Sultan Nazrin praised Khazanah's effort to 'democratise art' by making it inclusive and accessible to the public via the virtual platform of Galeri Khazanah.
"Traditionally, most art is viewed physically. It is kept in museums, galleries, corporate offices, and in private homes or art collectors."
"Initiatives like the virtual exhibition of these works that Khazanah has set up allow art to be accessed in a far more effective way than was previously possible," he remarked.
The event was also attended by artists whose works are featured at the exhibition, as well as representatives from government-linked companies, government agencies, private sector companies, art galleries and the local art fraternity.
The theme of the virtual gallery was selected in conjunction with the Merdeka month to celebrate and memorialise the many facets of Malaysia, from the 1960s to the present day. The selected artwork is the representation of the stories contained in this country.
Among the artworks that are featured in the virtual gallery include those by Datuk Syed Ahmad Jamal, Datuk Ibrahim Hussein, Khalil Ibrahim, Latiff Mohidin, Datuk Sharifah Fatimah, Yusof Ghani, Ahmad Zakii Anwar, Jalaini Abu Hassan, Anurendra Jegadeva, Kow Leong Kiang, Yee I-Lann, Fauzul Yusri, Liew Kung Yu and
Haffendi Anuar.

Among those in attendance include Latiff Mohiddin, Ahmad Zakii Anwar, Yee I-Lann and many others. – KALASH NANDA KUMAR/The Vibes pic

Many of the artworks that Khazanah owns are on display at its corporate office in Kuala Lumpur, as well as at its regional offices in Shanghai, Mumbai, Istanbul, and San Francisco. In the past, Khazanah has also loaned out several of the artworks that it owns to art galleries for exhibition.
To commemorate the launch event, Khazanah is also organising an 11-day mini-art exhibition starting tomorrow at Slate @ The Row, Kuala Lumpur. The 28 artworks were specially selected to commemorate Khazanah's 28th anniversary this year.
Time Together: Exploring Art Through Khazanah's Collection mini exhibition will be open to the public from tomorrow (August 25) until September 4, between 10am to 6pm, daily. Admission is free.
Visitors will also get an opportunity to listen to talks organised by several established and emerging artists, take part in creative workshops and join interactive activities throughout the mini-exhibition.
The virtual art gallery was curated by Malaysian art consultant Sarah Abu Bakar, designed by Malaysian architecture firm Fei Architect, and photographed by Wesley Wong of Giclee Art Sdn Bhd. Galeri Khazanah consists of five thematic virtual reality spaces – the Lobby, Traditional House, Peranakan, Pavilion and Glass Room.
The music accompaniment is an orchestral piece by the Malaysian Philharmonic Orchestra (MPO) titled Lenggang Mak Limah, composed by Abu Kassim and arranged by Ahmad Muriz Che Rose.
Galeri Khazanah is available for viewing at https://galeri.khazanah.com.my/ – The Vibes, August 24, 2022